THE HOLY PAIL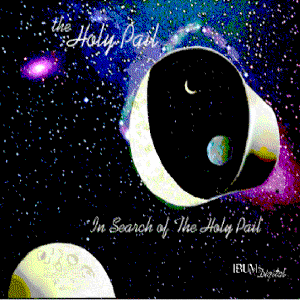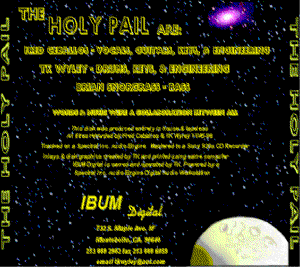 Songs from the DVD Short film
"In Search of the Holy Pail"
Mild mannered MgGee has searched for answers his whole life. One day his patience runs out when an ATM machine eats his card. MgGee loses it. He next goes on an adventure that takes him from the mean gang streets to an institution to get funked, and finally on a search for the question we all ask - why? Disgusted with the hipocracy of it all, he finds his answer when leaping to his supposed suicidal death only to realize that he must do what has to be done. He must throw all the hipocracy of the world away into the bottomless Holy Pail!
The Holy Pail is:
Fred Ceballos, Tk Wyley, and Friends
Produced by TK Wyley, and Fred Ceballos
All Music and Lyrics composed and performed by The Holy Pail
Information Society
Funkstitutionalized
Wimps with Weapons
Tell Me More Lies
How Was I To Know
The Holy Pail
You'll See
Listen to the Anthem of the Internet!
Information Society
You must have a Real Audio and/or Mp3 player to listen to these files
Go to
SONGS
page for more info.
This disk was produced entirely in-house and entirely tape-less. All titles recorded at IBUM Digital by TK Wyley and Fred Ceballos 1995, 1996. Recorded on a Spectral Inc. Audio Engine. Mixed to IQS Saw Plus. Mastered to a Sony 920S CD Recorder. Inlay, booklet and graphics created and printed from same computers. All rights reserved. © 1996 The Holy Pail
---


---
E-Mail:
info@peopleman.com


Back to: PEOPLEMAN PRODUCTIONS